Driving in Kenya: Self Drive & Roadrip Tips For Driving in Kenya
All You Need to Know before driving on Kenya Roads
On which Side of the road should I Drive in Kenya?
Is it hard to drive on Kenya Roads?
Is it Easy to rent a 4×4 car in Kenya and travel?
How much does it cost to drive in Kenya?
What is the Best month to visit Kenya?
How will I receive help if My car breaks Down?
How to deal with traffic police in Kenya?
Getting an acceptable route in Kenya?
Driving in Kenya: As you hit the road and head-off on an awe-inspiring adventure, equip yourself with the rules and regulations and get the head's up about driving in Kenya  Kenya Self driving and road trip guide and safety tips. it is important that before you start driving, Learn about this info:
All You Need to Know before driving on Kenya Roads
Driving in Kenya: Planning on driving the road of Kenya? Get all you need to know about driving on a self drive or car rental with a driver on your journey to Tanzania.
Getting familiar with the  Kenya traffic rules  and regulations might help you to keep secure and confident on the Kenya road and  from getting some unexpected fines. So keeping on them is something we certainly urge every traveler to do before your travels. Here below in this Kenya travel news, you will find responses to at most of your questions but if you have any additional questions that we do not go over here, please go ahead and ask!
On which Side of the road should I Drive in Kenya?
Kenya drives mainly on the left hand side of the road majorly on most right hand 4×4 cars, and if you want to overtake other vehicles you  are advised to use the right lane.
Is it hard to drive on Kenya Roads?
No,  it isn't , most of the Kenyan urban and city roads are paved with less cases of potholes and easy to drive except for minor roads. The road conditions are continuously improving, and sometimes you may encounter roadworks during your road trip.
The further you go from the large cities and towns, you will meet unsurfaced roads, since several Kenyan roads are in delicate condition, for their wide potholes, rough/rugged surfaces as well as rivers flowing  on them
The speed limit on the Kenyan road is 80 km per hour on the highway and  50km in urban areas. Drive at an average speed of 40 km/hour  when going off-road. If you are keen enough, respect the speed limits then you are very likely to have a safe and interesting trip, with no fines!
Is driving in Kenya Worth it?
If you want to explore, spot and experience most of what Kenya has to offer then the answer is definitely yes! Driving on the Kenya roads for any road trip is the perfect way to discover much of the country.
Wherever you are in Kenya, you are always closer  to the next breathtaking spot to visit and even the view from inside the car is often magnificent. Like for example when driving from Nairobi City on your way to Masai Mara, you will drive through a beautiful scenery of the Rift valley field that will absolutely take your breath away.
Is it Easy to rent a 4×4 car in Kenya and travel?
Reasonably yes! It is very easy especially with selfdrivekenya.com . We at self drive Kenya are  more than willing to help you and you can always count on us for any assistance through our contact info@selfdrivekenya.com, or whatsApp: +256 774 819223, +254 72280251.
Besides, we can also refer you tour sister companies www.selfdriverwanda.com , www.selfdrivetanzania.com, and www.4x4selfdriveuganda.com  in Rwanda, Tanzania and Uganda  to choose from and if you have any questions, you can just send them an email through info@selfdriverwanda.com , info@selfdrivetanzania.com , info@4x4selfdriveuganda.com  and we do recommend 4×4 vehicles for all your travels
How much does it cost to drive in Kenya?
"How much does it cost to drive in Kenya?" probably is the  question you would ask yourself overtime before you plan a self drive or driver guided road trip adventure.  The cost normally depends on the vehicle you want to hire in Kenya.
The average cost of a regular 4×4 vehicle starts from $50 to $100 per day or more. And if you want to rent a rooftop tent land cruiser, safari van, extended land cruisers, coaster bus, then that is everywhere from $120-$250 per day, depending on the vehicle and time of year you are planning to visit.
Don't forget the cost of accommodation, which is why it is so great to travel on a land cruiser with a rooftop tent with camping gear as then that is not even an issue as you have it with you where ever you go. The price for accommodation per night is everywhere from per night.
Price for petrol and diesel keep fluctuating, which is why you always have to be updated abut the current fuel prices.
What is the Best month to visit Kenya?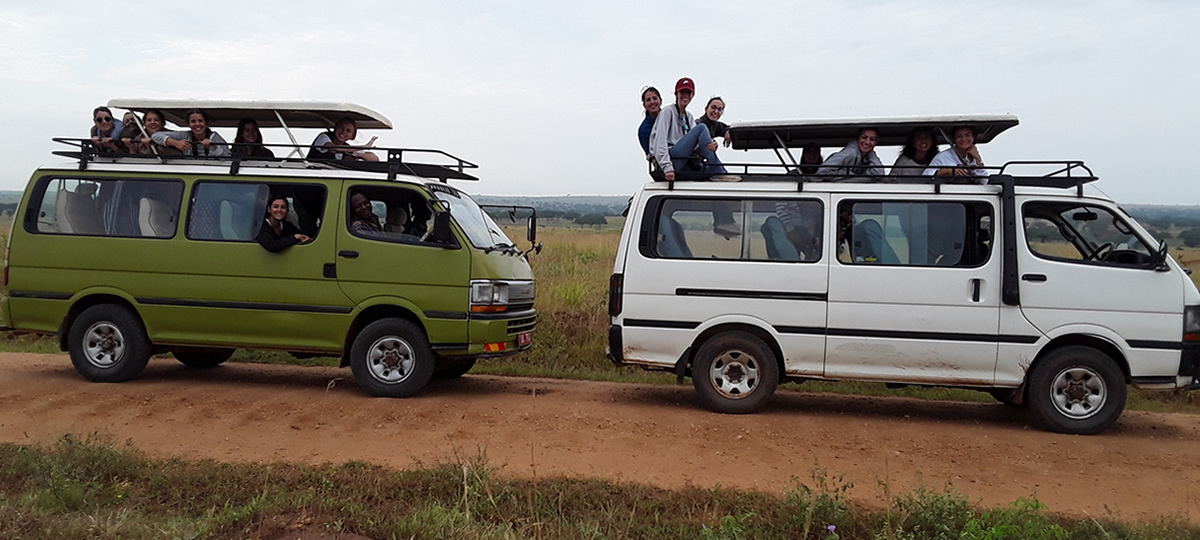 Kenya can be visited all year round, and with a 4×4 rental cars, you are good to drive on any road type. During the wet season, some roads truly become notorious and impassable.
Is it Safe to drive in Kenya?
Pretty yes! But remember this! car-hijackings are more frequent in Nairobi and Mombasa but can occur in anywhere within Kenya
Secondly, avoid high crime areas of Nairobi including Kibera, Mathare, Huruma, Mukuru Kwa Njenga, Mukuru Kwa Reuben, Korogocho, Kariobangi Kangemi, Mwiki and Kawangware, not forgetting Mombasa You should also remain anxious at night wherever you're driving and on the roads that link Nairobi city centre to residential areas.
You must often the Mombasa road between Jomo Kenyatta Airport (JKIA) and Nairobi city as there are cases of car-jacking on the old airport road as well as Jogoo Road.
Cross Border Self drive Rules
Our Self drive Kenya cross border  Self Driving Rules allows you to cross borders from Kenya into Tanzania, Uganda and Rwanda only if you have purchased a COMESA License. Our 4×4 cars may also be allowed to be driven in the COMESA countries of Southern and Eastern Africa but there is likely to be an additional charge for that. If you intend to drive the car outside Kenya you should advise the our company  during reservation.
How will I receive help if My car breaks Down?
Self drive Kenya
rents out well serviced second hand cars. Break down cases(which is rare) may occur in rough regions which is something you should take into consideration. However we urge our travelers to adjust their itineraries for the unavoidable circumstances, as we also help in offering a 24/7 back up support.
We have reliable and qualified mechanics at all sections in Kenya to assist you and they will try their best abilities to get you back on the road.
On the other hand , in case the breakdown will lust for more than 24 hours, then we will replace the car with an alternative model, although it may take a while  to receive the car depending on the location
On behalf of a flat tire issue, this should be repaired by yourself. Self drive Kenya car rental agreement explains how to deal with this. Otherwise, we are just a phone call away.
In case of an accident, contact us instantly. We will quickly advise you to contact the police. Rather for insurance reasons, it's important that you receive a police report. You will need to take pictures of the damage/situation. We also request that you should not leave the car unattended  to our company  consent.
How to deal with traffic police in Kenya?
There are a number of traffic police officers on the Kenyan Roads, who will often pull you a side of the road to check if your car is insured, the tires look okay, and vehicle kit including the required fire extinguisher, triangles and a first aid kit, which is already  catered for by Self drive Kenya.
Never the less, you will also be asked for a valid driving license from your country of residence.
In case you didn't break any law such as speeding, dangerous overtaking, there is nothing you'll be accused of except when you commit an offence, you are entitled to paying a fine, which is usually from $50 and more.
Getting an acceptable route in Kenya?
Download and install an offline navigation app  maps.me on your smart phone, called
maps.me
. Despite the Country Map, self drive urges all its customers to use the App. Other apps like iOverlander is also recommended while most of the campsites in Kenya is marked on the App as you follow.