12 Days, 11 Nights in Kenya with Self Drive Kenya

Welcome to Our 12 Days Kenya Safari and Mombasa Beach Itinerary. Our team of Kenya safari tours operators, all born and raised in Kenya, have planned this ​12 days Kenya safari itinerary to take you to ​the world-famous Masai Mara Game Reserve and the Lake Nakuru National park.
For a change in environment and therapeutic sceneries, we turn to the Kenyan highlands that are characterized by rolling hills and vast green fields of tea and coffee, against the backdrop of the mighty Mt. Kenya. The Aberdare National Park located here is a rare gem you would relish exploring.
Of course, no ​Kenya tours and safaris ​are complete without an evening walk (barefoot) along some of the most beautiful beaches in the world. That is why we have added the best beach in Africa (WTA) to this itinerary; the Diani beach.
Well, Diani is a treat on its own, but Mombasa has more to offer – think scuba diving, snorkeling and even swimming with dolphins! That is why a day trip to Wasini Island is part of this 12 days Kenya tours and safaris.
In short, if exploring the Kenyan Jungle and walking on its pristine white sandy beaches piques your dream African safari, this trip is your chance to do just that.
Our team of safari guides looks forward to sharing their beloved country with you. Next, please see the summarized, 12 days ​Kenya safari tours itinerary.
The Summarized, 12 Days, Kenya Tour Package
Day 1: Arrival in Nairobi and Flight to Masai Mara
Day 2: Explore the Masai Mara Savannahs.
Day 3: See the Masai Mara from the Air.
Day 4: Road Trip to Lake Nakuru National Park-
Day 5: Explore Lake Nakuru National Park
Day 6: Transfer by Road to Aberdare National Park
Day 7: Game Drive in the Aberdare National Park
Day 8: Return to Nairobi for a Short Flight to Diani
Day 9: Swimming with the Dolphins at Kisite Mpunguti Marine Park
Day 10: Relax with your Favorite Cocktail Drink or Walk on the Beach
Day 11: Visit the Mamba Village (Crocodile Farm)
Day 12: Fly from Diani to Nairobi
The Detailed, 12 Days, Kenya Tours and Safaris Itinerary
Day 1: Arrival in Nairobi & Short Flight to Masai Mara
Karibu Kenya! Your appointed guide will be waiting for you at the Jomo Kenyatta International Airport, your hotel, or your residence. Please don't worry- we arrive an hour early so you will not be standing around wondering what to do.
After a formal welcome, we drive to the ​Weston Hotel, where we will have lunch and refreshments. We have chosen this hotel for its proximity to Wilson Airport from where you will be taking your flight to the Masai Mara.
After an hour or two, we will take the short drive to Wilson Airport in time for your flight. The flight will be 30-45 minutes, and we will land directly inside the famous Masai Mara game reserve.
We will then drive you to the Masai Mara safari lodge of your choice, for check-in and refreshments. We know that you are excited to explore the Masai Mara, and we will not keep you waiting. After you have settled into your room, your driver will pick you up for the first evening game drive.
The evening is a great time to catch the big cats in their element as they hunt for dinner. With a little luck, you might see the king of the jungle in action! There will be plenty of other animals out for dinner as well.
As the darkness creeps in and the animals wind down, you will drive back to the hotel for dinner and a well-deserved rest. Get a good night's sleep; day 2 of your 12-day safari in Kenya is going to be full of adventure!
Day 2 of Your best Kenya safari tours – Game Drives in Masai Mara
The second day of your adventure at the ​Masai Mara starts after breakfast. Remember to pack your camera and extra batteries as you have plenty to look forward to today. On the menu is a full-day game drive complete with a picnic lunch.
The game drive starts in earnest as you crisscross the vast jungle of the Masai Mara. Your driver has in-depth knowledge about the animals and will happily share interesting facts and tidbits. Today you will be able to see many more animals including lions, zebras, giraffes, buffaloes, elephants, cheetahs, and again, with luck, you might catch a glimpse the elusive leopard.
A drive by the Mara River will reveal countless crocodiles idling about, as well as families of hippos relaxing in the water. If you have a soft spot for birds, you need not worry. There are over 400 bird species recorded in the Masai Mara.
After a busy but exciting morning, your driver will pick the best possible spot, picturesque with just the right amount of shade, for your picnic lunch. Enjoy the sumptuous meal as you reminisce on what you just experienced.
After the picnic lunch, Kenya tours and safaris resumes. This time to a different part of the Mara to give you a chance to see many animals that you had not come across in the morning session. As dusk draws in, your driver will wind up the day by driving you back to the hotel, with just enough time for you to refresh and get ready for dinner.
Enjoy your favorite drink by the bonfire after dinner as you trade stories of the day that was. Tomorrow, more magic awaits.
Day 3: Hot Air Balloon – Afternoon Visit to a Masai Village
If you thought you had seen the Masai Mara, wait until you see it from the air! The Masai Mara is vast, stretching as far as your eye can see. A ​hot air balloon safari is the perfect way to explore this jungle.
You arrive at the balloon 'launch site' at 6 am. You will take some coffee as you wait for the crew to get ready. When everybody boards, the balloon takes off, floating at the whim of the winds.
I hope you carried your camera (well secured on your body) as some of the shots from up above are quite unbelievable. The balloon safari takes roughly an hour, after which you start descending.
When the balloon lands (wherever it lands) a crew will be ready to prepare a champagne breakfast with all the trims.
Our Kenya safaris and tours vehicle will be on standby to take you back to the hotel with a game drive en-route, arriving in time for lunch.
In the afternoon we take you to a Maasai village. The Maasai are a fascinating tribe, stubbornly clinging to their culture and traditions even in the face of technology and westernization.
Learn how they make their mud huts, beautiful ornaments (don't forget to buy some souvenirs) and perhaps even learn the famous Maasai jump.
After this experience, we drive you back to the hotel for dinner and overnight.
Day 4: Masai Mara to Nakuru via Road
After an adventurous time at the Masai Mara, it's time to hit the road- literally. We leave the hotel and have one last game drive as we drive out of the park.
Kenya has beautiful countryside, and you will experience some of it as we drive you to Lake Nakuru National Park. This is roughly a 4.5-hour trip, stopping for lunch in one of Kenya's popular 'nyama choma' (roast meat) spots.
We arrive at Lake Nakuru National park late in the afternoon, giving you time to check-in and relax before dinner.
Day 5: Explore Lake Nakuru National Park
After breakfast, we drive to the lake where thousands of flamingos will already be busy pecking around for food. This is a sight to behold, and the pink stretch as far as your eye can see. The air is also crisp and fresh at this hour.
You will notice that from 10 or 11 am, the flamingos start flying away. In fact, by midday, most of them will have gone. We will have spent enough time here, and it's time to explore the rest of the park.
Lake Nakuru boasts the big 5 animals, so be sure to look out for them. You will notice large herds of rhinos and the armed guards not so far away from them. This is to protect them from poachers.
For bird lovers, this park has over 300 species.
There are some breathtaking waterfalls here as well, and we will head out there after lunch.
We return to the hotel in the early evening, allowing you time to relax as tomorrow we take another road trip!
Day 6: Lake Nakuru to Aberdare National Park
We start day 6 of your 12 days safari in Kenya at the crack of dawn to arrive in Nyahururu by 9 am, where we will make a short, 1-hour drive to explore the famous Thomson Falls.
We then resume our safari to arrive in Aberdare National Park before midday. We will check in the hotel for lunch, refresh and prepare for the evening game drive, which starts at 3 pm.
The evening game drive will let us see the Aberdare National Park as it sleeps and as animals move out for dinner.
Day 7: Morning Game Drives in Aberdare National park
The Aberdare National Park is an empress that refuses to be ordinary, taking advantage of her beauty and charm to seduce suitors from all over the world. Morning game drives through her is a peek into paradise.
She gets to bedazzle you with her multitudinous wildlife that ranges from the Big 5, cheetah, serval, hyena, bat-eared foxes, black-backed and side-striped jackals, hippo, crocodile, baboons, warthog, Topi, eland, Thomson's gazelle, Grant's gazelle, impala, waterbuck, oribi to the reed-buck and zebras. And a population of over 400 bird species.
The morning game drive is the best time to capture the carnivores chasing their play, or a leopard taking its kill up a tree. We will also capture plenty of mammals moving out of their sleeping quarters for breakfast before the sun gets too hot.
Around 11 am, the sun will have become exceedingly hot. We will head back to the lodge for lunch and leave you to relax and rejuvenate for the afternoon drive. Our goal on day 8 of your ​Kenya tours and safaris is​ to capture all the big 5 in their natural settings.
Day 8: Aberdare to JKIA – Flight to Diani
It is time to leave the bush for some time in ​Mombasa beach!
We depart from Aberdare National Park and head to Nairobi for your next flight at JKIA.
It's okay to take a nap on the way but do not forget to look out for the beautiful Kenyan countryside. This journey will take about 3 hours, and you will soon be diving into the pristine cool waters of the Kenyan coast.
Day 9: Scuba Diving Excursion, Snorkeling, and Swimming with The Dolphins at Kisite Marine Park
Day 9 of your Kenya tour package will be an unequivocally fun-filled day in Mombasa. You'll enjoy scuba diving, a swim with dolphins, and a Fun Dive Day in Kisite Marine Park in Wasini Island.
After a short briefing, you go underwater with the instructor. The instructor holds your hand during the dive. Also, the site offers some of the best underwater views in Africa, including corals, tropical fish, and turtles.
It offers snorkeling for non-swimmers, with life jackets and a ring. Here you'll also enjoy snacks, fresh tropical fruit, and soft drinks on a dhow.
After a jam-packed day full of fun, we head back to Mombasa city where we can enjoy the nightlife or head to the Resort.
Day 10 – Relax in Diani Beach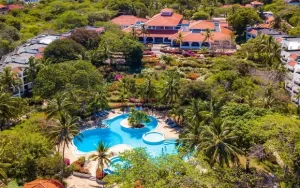 Today it's all about relaxing, and you have earned it. After taking in the Kenyan jungle with its majestic views, you need some time to reflect.
Nothing says 'reflect' better than lying on a beach bed after a massage, with your favorite cold drink, watching boats disappear into the horizon of clear blue waters.
Your waiters will be at your beck and call so you can lie here all day if you wish.
We recommend, however, that your spare time for a walk at sunset, along the beach, barefoot, as the sun disappears on the horizon.
We guarantee that this is a feeling you will never forget.
Day 11: Mamba Village Visit
On the final day of this Kenya tour, you'll pay a visit to the famous Mamba Village, situated in Nyali.
At 5pm daily, the crocodiles are fed, and you can see them jump high in the air to snap the meat.
Camel Riding, Horse Riding & Mamba Restaurant overlooking the crocodile pond, a unique "a la carte" restaurant serves game meat like crocodile and ostrich.
They also have a beautiful collection of plants and flowers specializing in orchids and aquatic flora. On display are carnivorous species, marine aquariums, and snakes.
After the day you'll head back to head to the Resort to rest and prepare for your flight back on the next day.
Day 12: Depart Back Home
After breakfast at the hotel, our director(s) will escort you to Moi International Airport for your flight home.
Your Kenya tours and safaris have come to an end. We are glad to have been of service to you, and we hope to welcome you to Kenya again soonish.
The Price of this Kenya Safari Itinerary Includes:
Round trip transport from Nairobi to all the parks and the airlifts to and from Mombasa.
Finest accommodation in all the facilities in the itinerary.
Professional and multi-lingual safari guides and drivers with vast knowledge of the country and its culture.
Luxurious safari van where you can take photos. Also, stops at strategic places for
photography.
Refreshments.
All applicable game park and reserve entrance fees.
All meals, drinks, and game drives.
The Price of This 12 Days, Tours and Safaris Package Excludes:
Traveling insurance, laundry charges, airtime, and luxury drinks such as champagne.
Hot Air Ballooning ($425 USD per person).
Tips for porters and game guides.
Holiday supplement, Bush dinners, and drinks.
Pre-travel expenses – Passports and visas.
International Airfare.