Just home for a week in the Maasai Mara starting with three nights at Angama Lodge atop the Siria/Oloololo Escarpment 300m above the Mara's glorious rolling grassy plains. You will be joined by other people from different countries who are also tourists from the UK Holland, Spain, and other countries, who so generously take up the Pledge offered to us by the hotel team and her team at Angama in support of the Sacred Nature Initiative and according to the latest book Sacred Nature 2: Reconnecting People to Our Planet (HPH, 2021). So, what did you do? The view from the wooden deck high in the sky is stunning. You look out over Marsh Pride territory and the riverine forest marking the course of the Mara River all the way south to the great Serengeti NP in Tanzania.
Most tourists have been fortunate to travel the world in search of natural wonders and images that tell a story, but the Mara holds the visitors in its thrall and renews the zest for life whenever you despair about the direction of man's ambition and greed is taking you. On the next day, early morning game drives – just the opportunity to savor the sweet fresh air, to take a dip in the pool while still keeping an eye on that view, and then to indulge in breakfast with all the trimmings, while still feasting your eyes on that view. You will spend time with elephants as the sun dropped towards the escarpment, and you will find yourselves in such a sense of reverie that we barely paused mid-morning to watch a mother black rhino and her calf that have earlier chased away one of the 5 male lions that spend time on both sides of the river, mating with any females that are receptive and causing havoc with the resident pride males wherever they go.
This was not so much about photography as it was finding a quiet spot along the Mara River, tucked away in the forest to sit and enjoy cups of piping hot coffee and delicious fresh baked honey biscuits while we reflected on life and home and abroad – and in particular to salute the Mara Conservancy Mara Triangle that does such an exemplary job of bringing order where otherwise there might be chaos, maintaining all-weather tracks, ensuring any off-road driving is strictly controlled, and operating anti-poaching patrols to help keep animals and visitors safe. The Oloololo entrance gate to the reserve speaks volumes. The ranger's houses spick and span, painted green to blend with the surroundings, each patch of grass around the houses neatly trimmed, and a warm welcome for visitors as you pass through.
As you make your way back up the winding track to Angama you will stop for sundowners with zebras and giraffes as your companions, almost oblivious to your presence. you will raise a glass to our friends and family, and Angama for their commitment to providing a breathtaking and memorable experience.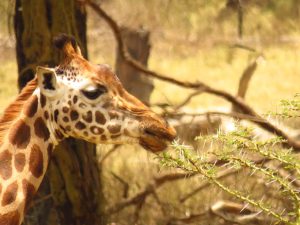 Now if you are a keen photographer then you have to check out The Greatest Maasai Mara photographic competition with a chance to showcase your best Mara images while supporting conservation in the process. You cannot do better than that. And if you are staying at Angama then a visit to their Photo Studio for a chat with Adam Bannister, resident photographer, and private guide, offers a golden opportunity to fine-tune your work.
As you can see Little Cat just loves the 4×4 Land cruiser and a sunny spot safely out of reach from interference, the engine still warm from our return to Nairobi.