Kenya has no shortage of places to visit. With so much variation in its geography, there are a lot of spectacular areas in the country. Here are what I consider to be the top 5 places to visit in Kenya during your 14days:
Day1: Arrival at the airport and transferred to the hotel and Nairobi visit
You need two days to tour around Nairobi city as the capital city of Kenya
Nairobi – Most people that visit Kenya skip the capital. It is worth spending two days in Nairobi, though, as the city is home to attractions like the Giraffe Centre, the Elephant Orphanage, the Karen Blixen House, and the Mamba Village. Visitors can also go on safari in Nairobi National Park, take tours of the Mathare slum, and visit local markets and museums. The capital is also home to famous restaurants like Carnivore and Talisman, which serve some of the best food in the country.
Day3:Tansfer to masai mara
Masai Mara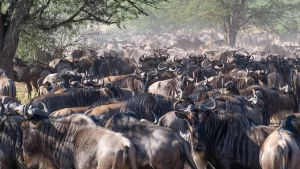 –The giant game reserve for Kenya safaris, the Masai Mara is one of the most popular places to visit in Kenya. Tourists can stay in lodges around the park-like safari lodge or you can camp with selfdrivekenya car with a rooftop tent and go on game drives to see hippos lions, elephants, rhinos, giraffes, and other African games. Wildebeest migration annually forces many people to visit Masai mara, you can see thousands of the animals make Immigration between two countries from Tanzania into Kenya and back.
3. Rift Valley – Located close to Nairobi, the Rift Valley is one of the top 5 places to visit in Kenya. Home to attractions like Lake Naivasha, Lake Nakuru, and Hell's Gate National Park, the area is full of beautiful natural monuments and is a great place for adventure travel in Kenya.
4. Mombasa – Like Lamu, people who like water life, Mombasa is a great location for beach holidays in Kenya. Popular with visitors and locals alike, when you think about having a vacation in Kenya don't leave it out. one of the costs in Kenya with beautiful beaches as well as its historic Arab-influenced old town and prominent sixteenth-century Fort Jesus.
5. Lamu – Lamu Island is one of the most popular places for beach holidays in Kenya. The beautiful isle in the Indian Ocean is a great place for fishing, diving, dhow cruises, and relaxing in the sun. Visitors to Lamu can stay in Lamu Town, Shela, or on neighboring Manda Island.