3 days Masai Mara Kenya-Self Drive Safari Kenya
Go for An exclusive 3 days self-drive safari to Kenya's Masai Mara Reserve with Self drive Kenya, One of Africa's game drive destinations
The 3 day Masai Mara self-drive game viewing safari starts from Nairobi, via the most spectacular great rift valley, arriving at Masai Mara Reserve for check-in in one of the tents in Manyata camp and lunch and proceed for your late afternoon game drive. Spend the whole day two on both morning and afternoon game drives searching for wildlife, especially the renowned big 5, and other wild game such as grand gazelles, wildebeests, zebras among others, which makes Masai Mara reserve, Africa's leading wildlife safari destination.
You will depart for Nairobi on day 3, with an early morning game drive through the Masai Mara reserve, reaching the city in the afternoon to catch up with your scheduled flight
Trip Itinerary
Day 1: From Nairobi to Masai Mara- 3 days Masai Mara Self drive Kenya Safari from Nairobi
From Nairobi, Drive down the escarpment, via the great rift valley, reaching Masai Mara for lunch and check-in into one of the tents in the Manyata camps.
Go for your first fascinating late afternoon game drive in the Masai Mara reserve, following the meanders of the Mara pathways within the reserve as you search for wildlife.
Return to the camp for dinner and overnight at your tent of residence.
Day 2: Full Day Game Drive- 3 days Masai Mara Self drive Kenya Safari from Nairobi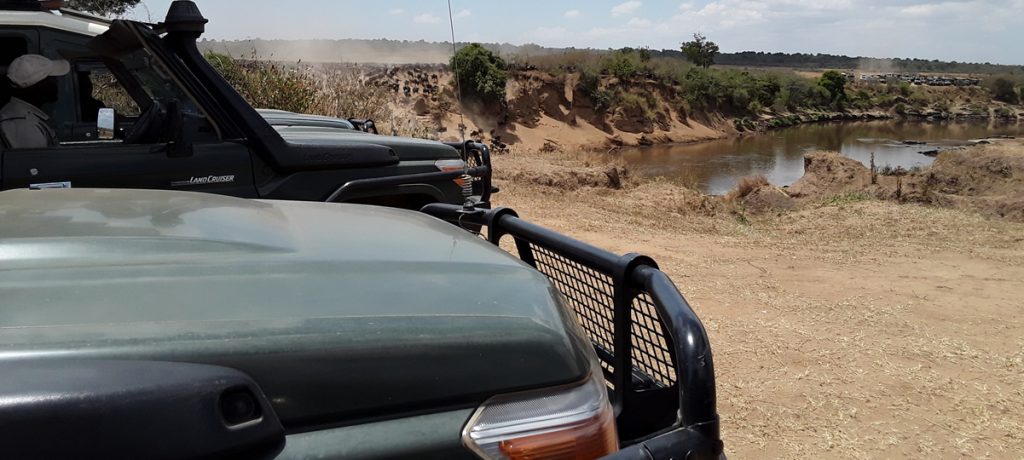 Day 2 is spent game viewing in Masai Mara national Reserve-Kenya's Wildlife National Park. Both morning and afternoon game drive takes you in search of Africa's Big five alongside other wildlife including;- the Masai giraffe, baboons, warthogs, bat-eared foxes, grey jackals, spotted hyena, topis, impala, hartebeests, wildebeest,  zebras and hippos which are found in Big numbers, though cheetahs and leopards are not easily spotted within the park.
Besides the wild game viewing, Masai Mara also offers the ultimate experience of the great wildebeest's migration along the Mara River, between the months of July and August when moving northwards to Serengeti national park in search of green pastures and then southwards in October.
However, Hot air balloons(can be arranged at an additional cost) are another way of seeing the Savanah plains, along with the beautiful wildlife.
Day 3: Masai Mara to Nairobi- 3 days Masai Mara Self drive Kenya Safari from Nairobi
On this day, you will leave for Nairobi, as you drive through Masai Mara, after an early morning game drive. Arrive in Nairobi in the Afternoon, this will mark the end of your 3 Days Masai Mara Game Viewing Self drive safari.